Solution Providers: Design Skills Help Pump Up Marketing
Submitted by Rick Saia on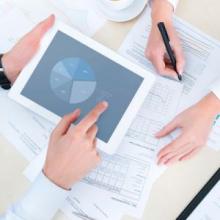 How important is design to solution providers' marketing strategies?
Many readers have an aversion to merely looking at a text-dense document, let alone reading it. And in a go-go business world in which many things can compete for a decision-maker's attention, marketing professionals need to find ways to pull them in.
"If you believe marketing is a storytelling medium, then by default you need to look at the best way we consume stories," says Todd Gallina, vice president of marketing at Irvine, Calif.-based solution provider Trace3. "Visual storytelling is highly consumed. So, when given the opportunity to employ visual design to storytelling, marketers are hurting themselves by not taking advantage of design."
[RELATED: How 'Mature' Is Your Digital Marketing Strategy?]
A recent study by IT staffing solutions and service provider TEKsystems underscores the importance of design skills in marketing organizations. TEKsystems, based in Hanover, Md., found that about nine of every 10 organizations rank design expertise as the most critical that they plan to add over the next year, outranking analytics and development skills.
"As companies start to formulate their approach to a digital marketing strategy, there is a nearly unanimous belief that design is a critical need," TEKsystems concluded in a statement that accompanied the study results.
Mindy Russell, vice president of marketing for Catapult Systems, an IT services provider based in Austin, Texas, says good design is especially critical in digital marketing strategies.
"Customers are becoming increasingly visual," she told ITBestOfBreed in an email, "so we find reducing content and communicating our messaging in more visual ways helps improve open rates and click-through rates."
Two-thirds of marketing organizations in the TEKsystems survey prefer to rely on in-house talent for their design skills. Organizations with the most optimized digital marketing strategies have more budget for skills, according to Jason Hayman, market research manager for TEKsystems. But they'll look outside to supplement what they don't have in-house.
At Catapult, the primary skills on the marketing team are tied to the Adobe suite of tools used to lay out such marketing vehicles as ads, emails and infographics, according to Russell. "We have a dedicated design resource on our team. In addition, most members of the marketing team have basic abilities to create and edit graphics for digital content.
"We have also recently added skills for video editing, which are increasingly becoming important," she added.
Trace3's Gallina says that when he was hired in 2012, one of his goals was to "punch up" visual storytelling and the company's visual branding. While he has experience with digital design tools, he relies on a creative director, Steve Mercier, who has a skill set complimentary to his "and really understands what our competitors are doing so we always visually appear different," Gallina said in an email.
When Trace3 doesn't have necessary design skills in-house, the company will look outside to digital agencies and niche providers. "There are a lot of choices out there" in California, he said. But those firms tend to outsource to contractors, "so you need to know who … is doing work for you. I only work with people whose work I admire, so I seek them out, or [they] have been referred to me from someone I trust.
"Once I find a good resource I promise to keep them busy.  Good help is hard to find," he said.