Best Of Breed Conference Preview: NetApp And Its CEO, George Kurian
Submitted by Rick Saia on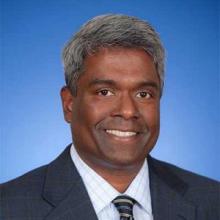 Following the merger of Dell and EMC, NetApp has become the leading independent storage vendor.
But that doesn't place pressure on the company, NetApp CEO George Kurian told CRN earlier this year. He said he sees it as an opportunity, especially when it comes to the potential benefits of a stronger relationship with Cisco, which is both a Dell rival and an EMC partner.
Kurian (pictured) will be a featured speaker at next week's Best of Breed Conference in Atlanta, hosted by IT Best Of Breed's parent, The Channel Company. On Monday, the first day of the two-day conference, he'll be interviewed by The Channel Company CEO Robert Faletra, who will discuss Kurian's views on the channel, NetApp's roadmap for growth and the company's recent acquisitions, including SolidFire, which it purchased earlier this year for $870 million.
In the video clip, CRN Senior Editor Joseph F. Kovar talks about NetApp and its CEO, who took over that role last year.