Q&A: EPAM Exec On Company's IoT Practice
Submitted by Rick Saia on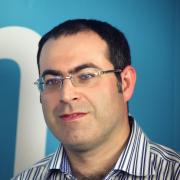 Growing From A 'Smart Greenhouse'
As the Internet of Things increasingly gains traction in business, solution providers are taking advantage of it and cashing in. Solution provider giant EPAM Systems began its journey toward IoT several years ago – when it wasn't even called IoT – and was honored in 2014 by Oracle Corp. as an "IoT Developer Challenge" winner after developing a "smart greenhouse."
That project helped propel EPAM to bigger and better things with IoT, according to Eli Feldman (pictured), CTO of advanced technology for Newtown, Pa.-based EPAM – No. 40 on CRN's Solution Provider 500 list.
Feldman talked with IT Best Of Breed about EPAM's IoT program and where it's heading. The following is a condensed version of what he told us.