Women Of The Channel: Define Success For Yourself
Submitted by Sarah Kuranda on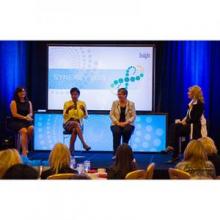 The only person you can compare yourself against is you.
That was the theme at a Women of the Channel panel, held at Insight's Synergy 2015 conference this week in Tempe, Ariz. It was the first Women of the Channel panel held at Insight's annual partner conference and was attended by more than 150 women.
What really stood out to panelists was how each of them had a unique story to tell about their success, some of the panelists said on a phone call with itbestofbreed.com after the event.
"It's remarkable how many stories were similar but each has chosen their own path to where they are in their career," Lynn Anderson, senior vice president of channel marketing at Hewlett-Packard, said.
That is especially true in building a work-life balance, Lisa Graham, a vice president at Adobe, said. For every woman, there is a pivotal point where they have to decide what her individual balance will be between work and family, she said.
"I think what we pointed out was it's not good to compare yourself to others," Graham said. "Understand what the right model of choice is for you and go down that path because there's all kinds of ways to go about working and handling a family."
Anderson agreed, saying that it's a very personal decision that each individual has to make. For example, she said the right choice for her was to not have children, a decision she said she has never regretted.
"There is no prescription, no recipe book, no map that says start here and go there. You really have to decide what's right for you," Anderson said.
A big factor in helping make those decisions is having strong role models as examples, Graham said.
"The more role models we have and the more we can develop women to encourage them to know what's possible and they can manage it, the more they can be willing to go to those jobs and go for those promotions," Graham said.
Anderson in particular highlighted a lot of top female executive leadership at HP, including CEO Meg Whitman. However there is no shortage of inspirational role models in the industry at all levels as grassroots mentoring and networking events spring up across the channel, Graham said.
"Big things come out of small steps," Graham said.
For women in technology and in the channel, there's more opportunity than ever, the women agreed.
"I don't really think it's going to be a different challenge as years and time have passed," Graham said. "I think there is a sensitivity in business that they do want a diverse organization and I think women have more opportunity, not less."