Whitman At BoB Conference: HP Split Will Allow Partners To Make More Money
Submitted by Steve Burke on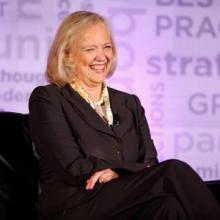 Hewlett-Packard CEO Meg Whitman Wednesday told several hundred of the industry's elite solution providers that they will be able to make more money with HP as a result of the split of the company into two separate publicly traded Fortune 50 companies.
"I think we are just going to get better and stronger and more important in terms of you growing your business and making money," said Whitman in a wide-ranging 50-minute interview with The Channel Company CEO Robert Faletra at the BoB Conference in Orlando, Fla.
Whitman pledged that HP's channel commitment will remain steadfast as it moves to break up the company and even after the split, which is expected to be completed by the end of HP's fiscal year 2015 ending Oct. 31, 2015.
The question-and-answer session marked Whitman's first appearance before a group of solution providers in the wake of the news about the split. HP said Oct. 6 that it will be splitting up into a $57 billion Hewlett-Packard Enterprise business, which will include enterprise systems, software and services, and a $57 billion HP Inc. business, which will include the PC and printing business.
"We will continue all the progress we have made in the last three years," said Whitman, referring to the major increase in channel investments that she initiated when she took the helm of the company in September 2011. "That will continue. There is no question about it."
Whitman, who will play a role in both new companies, said partners can expect continued channel investments such as HP's $100 million bet on the Unison Salesforce.com portal, which is winning raves from partners, along with continued improvements in areas such as deal registration and market development funds.
Whitman's appearance at the BoB conference came on the same day that HP said it was continuing a share repurchase program, a move that was widely seen as a confirmation that HP-EMC merger talks were off the table. When asked if she could comment on reports that HP's talks with EMC had come to a halt, Whitman answered, "No."
In an interview with CRN, however, Whitman said Hewlett-Packard Enterprise will have more than $7 billion in cash to make acquisitions. "We will be in a financial position to do M&A, to make more investments in R&D as we streamline our costs even further in ways that will help the company," she said.
"I am really excited about the separation," she said. "This is the right thing for our partners. It is the right thing for our employees. It is the right thing for our investors. I think we are going to be in a really good position, a stronger position than we are today."
NEXT: Two More Agile, Innovative Companies