Vertical Industry Watch: In Health Care, Cloud Helps Patient Outcomes
Submitted by Rick Saia on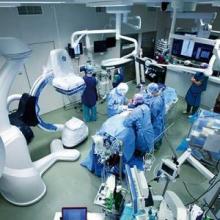 If you sell cloud solutions to health-care providers, there are several reasons why you're in a good place, according to the results of a recent survey.
Cloud-based infrastructure and apps are not just making their presence felt in hospitals, they're having a marked positive effect on patient care and satisfaction, according to the survey, conducted by solution provider SADA Systems.
Out of more than 300 IT professionals in health care who took the survey earlier this month, 56 percent said cloud-based apps are improving patient satisfaction, while 55 percent said those tools are leading to better treatment. Also, 54 percent believe cloud apps and tools in their organizations are helping them deliver care faster.
Those results indicate that concerns over the cloud seem to be easing as IT professionals in the health-care industry are focused on data security and maintaining the privacy of patient data, SADA – No. 342 on CRN's Solution Provider 500 - said in a statement.
Meanwhile, 64 percent of respondents to the survey said they believe cloud technologies are helping their organizations improve productivity and efficiency for both staff and patients.
"Cloud-based IT infrastructure and applications are apparently providing healthcare organizations the opportunity to operate more efficiently [and] innovate faster," SADA President and CEO Tony Safoian said in the statement. He added that the results were "consistent with what we're hearing from customers and partners."
John Motazedi, CEO of SNCSquared, a solution provider in Joplin, Mo., with health-care provider clients, agrees that cloud technology is having an impact on the delivery of patient care.
"The software and how it's being used [in the delivery of patient care] is a lot faster and has a more web-intuitive look," Motazedi told IT Best Of Breed. The technology helps bring more data to a single point that allows for better decision making, he added.
And because of that, Motazedi said, doctors are able to treat patients much faster. According to the SADA Systems survey, the future for cloud in health-care organizations looks even brighter. Ninety-five percent of the health-care IT professionals surveyed said their organizations are planning to increase their use of cloud infrastructure. Meanwhile, 89 percent already use cloud apps.
In another finding, Microsoft is the top cloud infrastructure platform for health care providers, with 42 percent of survey respondents. Google is second at 29 percent, followed by Amazon, at 27 percent.
Want to read more about what's going in health care? Here are links to two additional articles:
HIMSS ANALYTICS: Four ways precision medicine will impact the healthcare IT solutions market
A study released in August by a health-care industry organization that focuses on technology focuses on how provider organizations are looking to IT to address disease treatment and prevention.
MODERN HEALTHCARE: Physicians enthusiastic about digital health, AMA survey finds
A study released by the American Medical Association found that nearly half of physicians are enthusiastic about digital health tools, and the majority see them as a help to patient care.