Talk Back On LinkedIn: Having A Tough Time Finding The Right People?
Submitted by Rick Saia on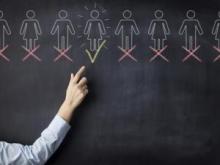 Does the technology skills gap affect your company as much as it may be impacting your customers? And, if you're a partner of either Dell or EMC, how is the combined partner program helping you? Weigh in on those discussions, and vote in our poll on security threats on the ITBestOfBreed home page.
(Not a member of the IT Best of Breed LinkedIn group, please click here and sign up today!)
Hiring The Right People With The Right Skills
We've heard a lot about how businesses are having a rough time filling critical roles in their corporate IT organizations because of today's "skills gap" in a tight job market. How might that be affecting you?
Better Opportunities With The Bigger Dell EMC?
It's been eight months since the merger of Dell and EMC became official, and three months since the companies' partner programs came together. This week at Dell EMC World, company officials talked about the advantages the new partner program has brought to channel partners. If you're a partner of either, how has it worked out for you? Tell us here.
(Click here to read about this week's news at Dell EMC World.)
Are your customers constantly fending off outside attacks such as ransomware and phishing? Or is their bigger security problem a lack of security savvy among end users that sometimes exposes the business to risk? Please share your thoughts here.
(Click here to vote in our site poll on security.)