Solution Provider Banks On Elegant Design To Boost Offerings Around Customer Experience
Submitted by Rick Saia on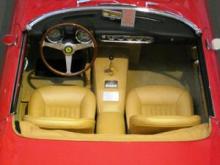 Who says enhancing the customer experience has to abandon style and elegance?
Solution provider Tech Mahindra recognized the value of design thinking last year when it joined in buying a controlling interest in Italian automotive and industrial design firm Pininfarina. Tech Mahindra and automotive manufacturer Mahindra & Mahindra, both part of India-based conglomerate Mahindra Group, purchased a 76 percent stake in Pininfarina in December.
Pininfarina, founded in 1930, has placed its design imprint on such iconic automotive brands as Ferrari, Alfa Romeo and Fiat. For Tech Mahindra, Pininfarina's expertise will be geared toward helping extract insight from hardware that will include Internet of Things technology.
[Related: Tech Mahindra Aims To Grow Its Business In U.S.]
Pininfarina has done something similar for Coca-Cola, and Matteo De Lise, managing director for Pininfarina's American division, addressed the company's work for the soft-drink king this week at Tech Mahindra's conference for analysts in Boston.
Pininfarina designed touch-screen soda fountains – called Coca-Cola Freestyle – that were installed in thousands of restaurants in the U.S. and abroad beginning in 2009.
"They needed a machine that [would convey] the full Coca-Cola experience," De Lise told about 100 people during his 30-minute address. The key in the design phase was to identify what that experience was and incorporate it in the machine, and determine "how to make it very simple and straightforward for the consumer to enjoy and to engage with the machine."
But while the machine can pour your drink, it's also gathering intelligence via Internet of Things technology and connected with Coca-Cola's headquarters, according to De Lise. The information can tell a distributor when a beverage needs to be replenished, or how well a specific flavor is selling in a specific geography, he said.
The results? More than 50,000 Freestyle machines have been installed in U.S. restaurants and movie theaters, De Lise said. The prototypes alone, he added, increased beverage consumption 25 percent. 
Pininfarina's design expertise "is a key aspect of the value proposition of [it and Tech Mahindra] coming together," along with hardware, software, interconnectivity and enhancing the user experience.
"There is a level of sophistication in understanding where the market goes and how to be very effective and fast" in responding to demand, De Lise told CRN after his presentation. Coca-Cola needed Pininfarina's design work because it wanted as much customer buy-in of the machines as possible, he said.
When it announced its investment in December, Tech Mahindra said it believed that acquiring Pininfarina will help give it a "critical foothold in key, early stage conversations" in such vertical industries as automotive manufacturing, especially in Europe given Pininfarina's presence in Italy and Germany.
"Given the increasing design sensibilities of today's consumers, product design will greatly influence customer choice and experience, and hence our success," Mahindra Group Chairman Anand Mahindra said in a statement.
In his presentation, De Lise said design historically had been "perceived mostly as an embellishment." But today, that has changed since it also considers the customer experience.
"When we can see the experience in the product at the beginning, we need to take this core element into consideration if we want to create value for our customer," De Lise said.