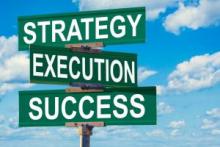 How good is your management team about prioritizing new initiatives so that the team can focus on turning them into reality?
The answer is super-important. Your company may have better ideas than the competition, but how it delivers against those strategic notions is just as critical for success, at least according to a McKinsey & Company global survey of more than 2,000 executives.
The McKinsey Implementation Capability Assessment centered on managers who have lived through major business model transformations or change initiatives. The high-level conclusion: businesses can't expect major change to happen without clear processes that drive accountability and commitment, no matter how logical or exciting the opportunity might be. In other words, you can't just expect new strategies to catch on virally. It takes discipline to pull them off.
What's more, the results offer a very compelling reason to get things right. The respondents identified as "good implementers" also tended to score themselves higher when it came to financial performance, the research shows.     
In an article about the research, McKinsey notes, "Some opportunities that are prioritized will not be implemented. Others will be implemented but will not achieve bottom-line impact. A final set may achieve bottom-line impact, but it will not be sustained. Yet good implementers retain more value at every stage of the process than poor implementers do, and the impact is significant."
So what are their secrets?
According to the McKinsey analysis, it comes down to seven considerations (ranked in order of importance):
Ownership and commitment at every level of the organization
Focused prioritization
Clear chain of accountability
Use of standard change processes
A long-term perspective
A willingness to adapt on the fly, if something can be done differently
Enough resources to get the job done
It's time to ask how well your organization executes against those best practices.