IPS Joins Motorola To Create Wearable PC
by Edward J. Correia on
Hands-free computing comes to field service thanks to partnership on Motorola's HC1 and IPS Entervise software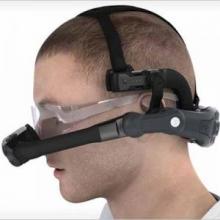 Motorola Solutions has a knack for creating markets from thin air. It did so two years ago with the SB1 Smart Badge, a Star Trek-like communicator and development platform that CRN recognized as one of the year's most innovative. Last year it again crossed virgin soil with the HC1 Headset Computer, a wearable PC that's blazing a trail into field service as a hands-free assistant, delivering everything from parts diagrams and schematics to real-time advice from experts far afield.
The HC1 incorporates a smartphone-grade computer, HD camera, noise cancelling microphone, 4G, Bluetooth and Wi-Fi, plus a microdisplay that's the equivalent of a 15-inch monitor, all on a rig that feels more or less like a bicycle helmet. "This device actually does the work; it's not a slave to a tablet or smartphone," said Motorola's Nicole Tricoukes.
Four years in the making, the HC1 became generally available last July, and has already found its way into construction sites, powerline maintenance, nuclear facilities, military operations, manufacturing, field service, trauma-care scenarios and many other applications. "If a guy is going out with a toolbox, that's our target," said Stephen Aponte, program director and general manager of product development at Intelligent Product Solutions, a Long Island-based consultancy that builds apps for the HC1.
"If I have a tablet on my knee and a phone held between my ear and shoulder, I really have no free hands to work on my task," said Aponte, who's been with IPS since its first involvement with the HC1. "When a person's in the field with no hands free, the device gives them hands-free access to critical information so they can continue working on their task." Aponte contrasts the HC1 from other heads-up displays out there. "The microdisplay doesn't occlude your vision; it's designed to sit below your line of sight so both eyes remain focused on the task." When more information is needed, the user simply glances down temporarily to take it in. "We call this information snacking," he said. 
NEXT: Hands Free