How CEO Jim Dixon Turned CompuCom Around From The Brink Of Disaster
Submitted by Sarah Kuranda on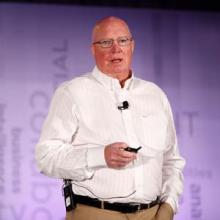 Back in 2004, CompuCom was headed downhill fast.
CEO Jim Dixon had retired from the company in 1996, but when a private equity firm took CompuCom private in 2004 amid dropping revenues and a tough IT market, they turned to Dixon to once again to help turn the company around. 
"It was going down," Dixon said. "That was the trail they were on, but private equity saw something in it and I saw something in it that we thought we could turn it around."
[Related: CompuCom CEO Dixon's Keys To Transformation]
That's exactly what Dixon did, he said in his keynote at the Best of Breed Conference in Orlando, Fla., taking CompuCom from about $1.4 billion in revenue in 2004 to $2.3 billion in revenue at the end of 2012. Dixon again stepped away from the chief executive role in May 2013, replaced by Tony Doye, but returned yet again in August of this year when Doye left the company. 
For any business, survival depends on being able to constantly change your model, Dixon said. For CompuCom, that meant focusing on recurring revenue. When Dixon returned to the company, the company did around 30 percent of its business in recurring revenue sales. Dixon said he wanted that to be 70 percent.
The overall goal was to turn CompuCom into a $1 billion IT outsourcing company by building long term recurring revenue contracts.
"I don't know about you – but I love recurring revenue. It just keeps giving year after year. We needed to start over...and we wanted to start it over with recurring revenue," Dixon said.
Having that sense of focus is key, Dixon said, because it allows you to out-execute your competition. With two different profit models between IT outsourcing and hardware, he said that focus is especially key to driving profits. For CompuCom, that meant building two sales forces and representative capabilities to cater to each business. That also means turning away some business, with Dixon saying that CompuCom generally stays away from facilities investments, data center, BPO and app development.
NEXT: No Easy Fix