Gigamon CEO Talks Sales Success, Competition
Submitted by Mark Haranas on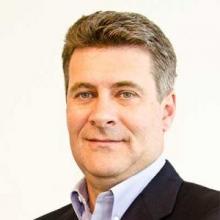 Gigamon CEO Paul Hooper says his "far more intelligent" solutions are beating competitors in the visibility market and attracting security companies by delivering purpose-built security solutions.
The network visibility specialist posted a record breaking $51.3 million in revenue for the fourth quarter of its 2014 fiscal year, and racked up another $32.2 million in product sales for the first quarter this year. That's a 60 percent year-over-year product growth.
Hooper talks to CRN about Gigamon's "tremendous" growth over the past six months, how they're beating competitor like Big Switch Networks and why the Santa Clara, Calif.-based company's new worldwide partner program is attracting security VARs. The following are edited excerpts from Hooper's interview.
You formalized a worldwide partner program at the beginning of this year, are more partners coming to Gigamon now?
Without question our new channel programs have been instrumental in driving growth, winning new business and accelerating the adoption of our new GigaSMART and GigaVUE solutions.
In particular, we are seeing many new conversations with VARs who specialize in security and want to augment their solutions and service with traffic visibility.   We have also bolstered our channel training programs and have added more in-the-field personnel to support our increasing focus around our worldwide channel.
What is your vision for Gigamon? Where do you plan to lead the company?
Our vision is to deliver active visibility solutions that empower our customers' migration to next generation business infrastructure.
With so much change occurring across the infrastructure landscape, our customers are looking for a solution that allows them to embrace new technology and while doing so improve their security and infrastructure management posture. The only path that allows for infrastructure change to occur while improving security and manageability is the deployment of "active visibility" solutions. These allow for self-aware fabrics to ensure appropriate traffic is delivered to security and management solutions at the right time.
Gigamon is transforming how businesses utilize and protect their network, users and applications. We have recently extended our solution to establish visibility using white-box appliances – an example of the innovation that is a hallmark of our company.
Do you see Big Switch Networks, Interface Masters or Datacom Systems as serious competitors?
While we can compete against any of these vendors, their solutions are focused on a significantly smaller scale and lower-intelligence segments of the market, and hence are in a different category of the market. That said we offer solutions that are cheaper than Big Switch Networks and others, more versatile and far more intelligent.