Four Tech Hiring Incentives – Beyond The Salary
Submitted by Rick Saia on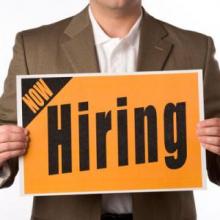 If you're looking to expand your staff in 2017, what do you need to keep in mind – aside from offering a competitive salary - in what many consider a job seeker's market?
There are four incentives that Robert Half Technology, a division of global staffing firm Robert Half International, singled out. In its recent 2017 Salary Guide for Technology Professionals, Robert Half examined the hiring landscape in corporate information technology organizations.
The incentives:
Working from home. "Many IT professionals, especially those working in areas where long commutes undermine work-life balance, seek the opportunity to telecommute," the report read.
If that's not an option, consider offering flexible schedules, the report suggests.
The chance to contribute to multiple projects. "Most talented tech professionals don't want to be tied to just one type of work," the report said. Allow them to help with various initiatives that interest them so they can build existing skills and develop new ones, the report advises.
The ability to innovate. "Encourage IT workers to propose new ideas and take the lead on developing solutions" aimed at improving efficiency, which will help keep them from taking their skills elsewhere, according to Robert Half.
A clear path to development. If you like a candidate who has growth potential, show him or her how they can grow with the company and that you take an interest in their career development, the report suggests.
The hiring market is tough throughout the technology industry. Earlier this year, the nonprofit group CompTIA said the skills gap for emerging and complex technologies is a key worry among channel executives. Another worry: The lack of younger workers to fill voids created by retiring technology professionals.
Meanwhile, Robert Half said 55 percent of chief information officers reported being concerned about their ability to retain current staff, while 61 percent said it's a challenge to find skilled IT professionals.
Need more advice on IT hiring and retention? Here are links to four stories over the last two years, three of which appeared on IT Best Of Breed:
Five hiring tips for solution providers
Seven keys to hiring and retaining the right people
Facebook's Mark Zuckerberg reveals his top rule for hiring
FROM FORBES.COM: 15 questions technical hiring managers love to ask in interviews