Dell Partner Trades For Peer's Client Base, Sees Services Opportunity
Submitted by Joseph F. Kovar on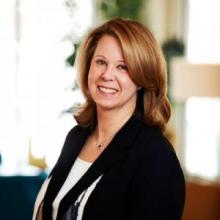 A Dell partner has launched a long-term strategy of growth via acquisition starting with this week's unveiling of a move to acquire the customer base of a smaller partner in exchange for an ownership stake.
Davenport Group, a St. Paul-based solution provider that started working with Dell after its acquisition of Compellent in 2011 and has since morphed from a storage-only partner to one of Dell's biggest all-around solution providers, has taken over the customer base of Omaha, Neb.-based Data Media Solutions.
Davenport CEO Sonia St. Charles (pictured) told IT Best of Breed that Data Media Solutions traded its commercial customer base to Davenport in exchange for shares in Davenport Holding Group, the umbrella company that owns the solution provider.
St. Charles said the transaction is not an acquisition, but instead is being treated as a tax-free stock exchange. The deal proves the power of making sure a solution provider proves its relevance to its vendor partners. St. Charles said Davenport and Data Media met thanks to an introduction facilitated by Dell.
The trading of Davenport Holding Group shares for Data Media' commercial customer base is the first time that group has made the kind of business-expanding transaction it was set up for in 2006, St. Charles said.
"We've had Davenport Holding Group around for years, and in 2014 it acquired all the stock of Davenport Group," she said. "So for now it only owns one entity. But Davenport Holding Group will be the holding group for future acquisitions."
St. Charles owns 90 percent of Davenport Holding Group, while the other 10 percent is owned by a business advisor who has worked with Davenport for the last 10 years.
"Our business advisor has been telling us about how to grow," she said. "Everything he has predicted has come true. If he said 'Do this, and this will happen,' it did."
DMS had three owners -- a married couple and their daughter -- with a customer base almost exclusively in Nebraska, an area where Davenport did not have a presence, St. Charles said.
The bulk of the customer base was commercial, and was managed by the youngest of the owners, Kristy Wilke. Her father managed a smaller part of the business that worked with federal government agencies, St. Charles said. Kristy Wilke is joining Davenport as an account manager for the new commercial custom base, while her father brought DMS' federal business to another solution provider in a similar business arrangement, she said.
For Davenport, the expanded customer base provides a huge new opportunity, St. Charles said. DMS qualified as a premier Dell partner, but had that status because of all the servers it sold rather than services related to those servers.
"Dell needs a strong partner in that area," she said. "DMS didn't offer services. They just dropped boxes. They have Fortune 500 accounts and other high-end and mid-market customers. So we see the opportunity to go deeper with these customers."