CEO Kurian Enjoys NetApp's Role As The Last Of The Independents
Submitted by Joseph F. Kovar on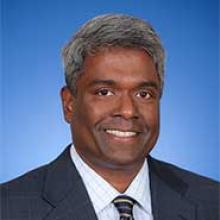 "I think data growth continues unabated," Kurian said. "So, at some point, all of these technologies will start to be reflected in how people are going to use them for business advantage. Data is essentially the heart of the digital transformation that many people talk about. You can't do transformation if you don't use data. So we feel that having a focus on data management gives us a unique place at the table."
The all-flash storage market is today too strong to ignore, Kurian said.
"If you are talking to a customer about a transactional workload like a database or a virtualization environment, you should absolutely be leading with solid-state," he said. "You want customers to buy today to have that infrastructure in place for [the next] five years. And it is without question that the next five years; there's a better total cost of ownership model with solid-state [compared to] performance drives."
Kurian said that, because of NetApp's scale and size, a core part of its channel strategy is to be the world's best at doing a few things.
"[This] requires us to partner with the world's best at doing all the other complementary things," he said. "We offer a set of capabilities to customers. Those capabilities are specifically consumed as part of broader solutions."
However, Kurian said, a successful channel is a two-way street.
"At the same time, what we look for from channel partners is to complement what we bring by knowing customers, figuring out which customers' use cases are best off using our technology."
Kurian's knowledge of the technology, the industry, and the channel was quite impressive compared to most vendors' CEOs, said Reza Zarafshar, president of Advanced Computer Concepts, a McLean, Virgina-based solutions provider that just started working with NetApp.
More importantly, Zarafshar told CRN at the Best of Breed conference, Kurian talked about solutions like all-flash storage and combining on-premises and cloud environments that help future-proof customers' data centers.
"If we look at all the things that are being said in the industry, whether everything will go all-cloud, or whether companies will buy big hardware, nobody's saying the need for data or for access to that data will decrease," he said. "That is an area that's definitely growing. The amount of data is growing exponentially or higher. And the access to it, how fast you can get it, how to build storage to serve the needs of that data, are very important."