CEO Kurian Enjoys NetApp's Role As The Last Of The Independents
Submitted by Joseph F. Kovar on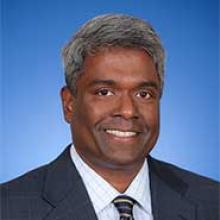 NetApp is relishing its role as the last large independent storage vendor after Dell acquired rival EMC, according to NetApp CEO George Kurian.
Kurian said NetApp is not just a storage vendor, but is also the first company to recognize the importance of the management of data in the era of hybrid IT. He was responding to questions from Robert Faletra, CEO of CRN parent company, The Channel Company, before a live audience of solution providers at this week's Best of Breed Conference. 
Historically, mergers like Dell and EMC, or larger companies dividing into smaller companies, are focused on building siloed environments for the enterprise data centers, Kurian said.
[Related: NetApp Bets Big On Cloud, All-Flash Storage Capabilities At NetApp Insight Conference]
"What customers really want is to bridge the world of enterprise IT with the world of cloud IT," he said. "We started that  journey four years ago, well before these transactions were created, building a solution set called Data Fabric."
Data Fabric is focused on enabling world-class data management solutions that span on-premises data centers with the public cloud, Kurian said.
"We've got hundreds of customers who do that, together with our technology, together with the world of hyper-scalers," he said. "I think VMware's solutions being deployed on Amazon is essentially an endorsement of our view four years after we started."
There's a role for multi-vendor partnerships because customers require their vendors to work together, and NetApp has a long history of partnering with on-premises and off-premises technology partners," Kurian said.
"What we bring to the market is the fact that we are focused," he said. "Everybody knows we have scale and capabilities and world-class support in what we do that introduces us to a whole range of interesting partner possibilities."
Kurian acknowledged that trends like the cloud and software-defined storage have a big impact on a storage market that is not showing much overall revenue growth. However, he said it is important to look beyond the headlines to see where the real growth is happening.
For instance, Kurian cited some areas where NetApp is seeing strong growth, including scale-out storage, solid-state storage and storage as stand-alone software that allows customers to combine on-premises and cloud storage environments.