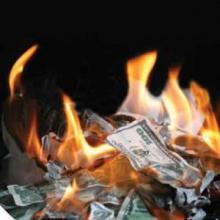 Did you know that 71 percent of big IT transformation projects are probably doomed to fail?
That's the sobering finding of new research conducted by consulting company McKinsey and the University of Oxford. What's more, you can expect at least one-third of projects to come in at least 50 percent over budget.
All this probably has less to do with whether the technical skills committed to the initiative are up to par and more to do with how it's being managed, the analysis finds.
To be clear, the survey underlying this study reflects the perspective of internal IT teams, not systems integrators or technology solution providers that might have been hired to help, and here's what McKinsey has to say about the results.
"Companies can burn significant energy trying to cultivate and develop skills that could be outsourced. Based on our research and experience, however, there are three roles that are vital to the success of any IT program and are most critical to retain in-house: IT program manager, business change leader, and lead IT architect."
Here are the responsibilities associated with each job title:
Program manager – Accountable for understanding the business context of an initiative and for being able to translate technical benefits into a language that line-of-business managers can understand.
Business change leader – In charge of anticipating the impact that the project might have across the organization, when it comes to process and behavior.
Lead IT architect – Responsible for reviewing and addressing technical challenges that could cause hiccups for deliverable schedules.
Strategically speaking, McKinsey believes these roles shouldn't be outsourced, but it doesn't absolve smart solution providers from ensuring that their own program managers and architects are equal partners.
Read more about the skills required for successful IT transformation projects.