New Symantec VC Arm May Create New Opportunity For Partners
Submitted by Sarah Kuranda on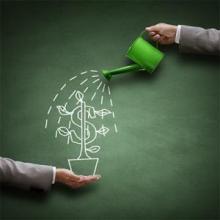 (NOTE: This story was originally posted to CRN.com March 2.)
Channel partners of Symantec could reap more opportunities after the vendor's launch of a venture capital arm and startup accelerator that its CEO says would help move the needle for security startups and build an ecosystem of innovative technologies around Symantec's platform.
Symantec Ventures, launched this week, will invest in early-stage startups in the security market, with a particular focus on those in artificial intelligence, analytics, and machine learning, CEO Greg Clark told CRN. The company said it could also invest in IoT security startups.
Symantec said it's not announcing a specific dollar figure it's looking to invest through Symantec Ventures. It will, instead, focus on finding the right projects to fund, giving its portfolio startups access to other support resources.
[Related: 10 Companies Symantec Could Buy Next]
The new investment arm will be different than traditional venture capital firms, providing not only capital but also access to the security vendor's extensive threat data, market insights, and integration into the company's Cyber Defense Platform. Clark said added value items beyond capital will help save startups money and accelerate their time to market maturity.
"We feel very good about being able to deliver high-quality data to this part of the ecosystem … to foster a bunch of innovation and drive the industry forward, Clark said. "We think there is a big era of cyber defense coming that is enabled by machine learning and artificial intelligence … We would like to offer an ecosystem where people who work on those do it in the context of our Cyber Defense Platform."
"This is more than just money. If you're working on these areas that we're interested in and customers are interested in, we can make it cheaper and get you to market quicker," he said.
Clark said Symantec Ventures will also be a "force multiplier" for partners, as it gives them new, integrated technologies to offer to customers that may have already bought Symantec or Blue Coat solutions. He said startups often offer partners strong margins on their technologies.
"We like to think it will drive a lot of incremental revenue through the channel. We are 100 percent committed to the channel … and we like a very healthy channel ecosystem. It's a huge part of our competitive advantage," Clark said.
Clark said Symantec and Blue Coat Systems, which Symantec acquired in August, have proven themselves to be reliable at picking early stage companies to invest in or acquire, evidenced by a long history of smaller, innovative acquisitions. That stamp of approval will help validate the startups funded by Symantec Ventures, he said.