Blog Roundup: Help Your Clients With DevOps
Submitted by Rick Saia on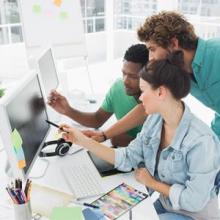 Businesses are discovering the kind of value DevOps projects can deliver for their enterprises, but they continue to struggle with determining the payoffs of accelerated development, according to a study conducted by Forrester Consulting.
The Forrester study, done on behalf of application lifecycle management software vendor Blueprint Software, found that most organizations don't look beyond development speed and quality in discerning the success of DevOps and Agile development work. For example, 62 percent of businesses surveyed said they still rely on speed to determine the success of their DevOps efforts, while 53 percent measure quality at speed.
Meanwhile, only 45 percent use business value as a metric to determine the success of their Agile and DevOps projects, the study, released earlier this month, found.
If you have customers that struggle with DevOps and Agile, here's some insight from solution providers that you can use to help guide them.
WORLD WIDE TECHNOLOGY: How infrastructure teams can survive DevOps
First things first, William Caban writes that the term "DevOps" can mean different things to different people. Here, he describes DevOps, the people involved, and how to execute on a project.
CAPGEMINI: What does DevOps mean for Agile?
In an ideal world, Renu Rajani writes, DevOps engagements should follow Agile methods. But does it? She outlines four points that contrast the two.
PERFICIENT: What are the metrics that matter with DevOps?
How do you measure success with a DevOps project? Albert Qian says they fall into three categories.
CAPGEMINI: The people behind the projects
Gunnar Menzel describes three different ways to organize the people who execute a DevOps project, and outlines six questions to lead a business to the structure that works for it.