'What Can I Do For You?' Technology Evolution Changes The Way The Channel Sells
Submitted by Rick Saia on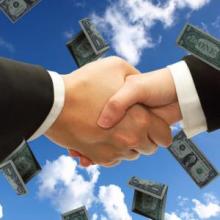 With the arrival of the cloud as a critical element of many organizations' IT strategies, the shift to recurring revenue models, and the increased importance of technology as a strategic business asset, the channel has entered a brave new world of technology sales, solution provider executives say.
Solution providers have refocused their sales strategies to emphasize relationships with their customers, paying more attention to what a sales target's pain points are, and how a solution provider's offerings can help ease that pain, even if – sometimes especially if – it has to cobble together two or more offerings to make it work.
[Related: For MSPs, Good Sales Enablement Is All About Educating, Training Key Stakeholders]
"A good salesperson is going to be strategic and understand the big picture," says Carl Gersh, director of sales and marketing at Forthright Technology Partners, a midsized solution provider in Miramar, Fla., with a heavy focus on engineering and managed services that's No. 36 on the 2016 CRN Fast Growth 150. According to Gersh, Forthright – a high-level partner of Citrix, Microsoft, Nutanix and VMware - has seen a 25 percent increase in business since 2015 with its increased focus on selling those services.
"The customer's expectation is that you're going to be conversant" in the technology from a high, strategic level, not wade too deeply into the technical details, understand what the business is trying to do, and bring in the right resources to help, Gersh says.
Brent Yax, CEO of Awecomm Technologies, a 20-person solution provider based in Troy, Mich., recognizes that as well, especially with a wholly new sales staff versus the one he employed five years ago. Today, about 80 percent of Awecomm's sales come through recurring revenue, he told CRN.
"Our sales staff … is completely different," Yax said. "The salespeople that we may have been looking at in the past, who were somewhat technical, could sell a one-time solution. Now, we're looking for people who are selling relationships and people who can talk to executives."
That's what buyers are expecting. Chances are they have already done their research on the products and services they need before reaching out to a solution provider, which makes up most of the so-called "buyer's journey."
That's where relationships and conversations come in. According to research conducted last year by B2B sales consultancy Leopard Communications, 68 percent of respondents from nearly 150 organizations said that listening and understanding their business are very important when they decide to work with a salesperson.
Ten years ago, the process of selling PCs was much simpler, said Derek Olson, a business development manager for Merrimack, N.H.-based Connection, No. 22 on CRN's 2017 Solution Provider 500. It involved knowing what the customer wanted, going to the manufacturers and coming back with two options, Olson said.
Today, in the cloud and technology spaces, "We're listening and [answering] business outcome questions from customers. We're mapping … from what they're trying to accomplish, and then we're going back to the multitude of cloud partners and vetting them for them. And then delivering a multitude of solutions based on their needs," Olson said.
The results? "It's allowed us to be closer and be more of a trusted resource," and helped the company hit recent quarterly sales goals in such areas as data center, storage, networking, managed services and cloud services, Olson said.
For some solution providers, that shift in how to interact with the market and how the sales staff should approach customers and prospects doesn't happen overnight. In fact, Awecomm's Yax told CRN, it can take years before you can get everyone on the same page.
"It took us a few years to figure out what the new direction was and how people really were looking at our products and how they were determining value," he said.
Bottom line: When he's looking to hire someone for his sales team, Yax looks for "anybody who has a strong acumen in business" to help drive the deal from the sales side. But it's also a team game, with engineers being called in to add their technical chops to the conversation.
"I would rather have a businessperson talking to a CEO than a technology person any day because what happens is [that] the CEO doesn't want to get in the weeds," Yax said. "Sometimes, somebody who knows too much about technology derails the conversation."
On the client side, "all they want is a result and they just want somebody to tell them 'I can give you that result,'" he added.
How do solution providers make sure their sales forces have what it takes to generate more revenue in this new world? It involves a combination of commitment to the strategy and multi-faceted training.
At Forthright Technology Partners, the sales staff is "perpetually" training, consuming information from vendor partners, the Forthright engineering team, and through an internal "sales summit" in which the sales team gathers for several days to "make sure we all understand" what the company is trying to accomplish, Gersh told CRN.
In addition, Forthright calls on an outside organization, Wilson Learning Corp., based in Minneapolis, to coach sales professionals on today's "consultative" approach, Gersh said.
Ken Valla, vice president of business development for Wilson, has had a front-row seat to this change of emphasis in sales training within the IT industry over the last 20 years. Back in the 1990s, he said, the success of sales training was measured by "butts in seats" at training sites. Sales reps went through training with a "hope" that they would retain some of it. "Training back in the 1990s [was] something that you sent them to when they weren't performing," Valla said.
"Today," he added, "the emphasis is on whether the sales force can help the company compete and perform."
Technology sales leaders are saying, "In order for us to compete … here's what we need our sales organization doing effectively, differently, more consistently," Valla said. "So, sales leaders are far more astute around how this can impact the overall numbers and whether or not they're successful as a sales team."
"It's more about selling a vision, painting a picture of what's possible with, [for example] cloud, with IoT-type things that are now available," he said.
Ideally, Valla added, channel partners want to jump in "on the front end" of a relationship with a potential customer "where there is … no opportunity or money on the table." Rather, he said, the aim is to have a conversation that doesn't focus on products, and goes something like this: "Let's talk about where your business is going. Let's talk about the outcomes you're trying to drive, the key metrics you're trying to effect."
"That's the value you bring. That's the conversation today," Valla said.
And that goes hand in hand with company culture, according to Jeff Gau, CEO at Saint Cloud, Minn.-based solution provider Marco Inc. – No. 94 on CRN's 2017 SP 500. Before he hires a sales rep, Gau wants to make sure a candidate buys in to the sales strategy and fits in with the company culture. "We talk to them about the strategy that is being deployed and gain their commitment to have the discipline" to help carry it out, he said.
"If the candidate appears to fit the culture and is committed to the strategy," that's enough to hire him or her, Gau said. "A track record of success certainly helps the cause as well."
Yax, of Awecomm Technologies, says juggling tasks and managing relationships are critical skills for today's sales reps, as well as a deeper focus on delivering solutions that will help a customer drive the desired outcome.
"The seasoned, experienced person who's really good at asking consultative questions and driving to a solution that's really going to help the customer [is] the kind of people that were looking for today," he says.