6 Things To Consider For A Small-Room Presentation
Submitted by Heather Clancy on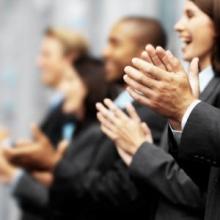 If you're using the same presentation materials and approach in front of a small audience that you do when you're working a much larger room (like for a keynote speech), you're probably going about things the wrong way.
"Many meetings or pitches involve fewer than 10 participants in a room, where everyone remains seated and walks through the same slide deck together," writes J.D. Schramm, a communications expert who teaches at the Stanford Graduate School, in an essay for the Harvard Business Review.  "This is quite a different scenario with greater constraints on the presenter and fewer tools to engage the audience."
Schramm is the founder of the school's Mastery in Communications Initiative. Here are his primary suggestions:
Don't rely too much on extra handwritten notes that will take your focus away from making eye contact with the audience.
If you're printing out slides, leave space for notes or for participants to fill in more details that you're sharing verbally. When they refer to the materials later, this will make a more lasting impression.
Make an impact with other "props," if appropriate. (Schramm notes that many of his clients that work in architecture often bring floor plans that everyone can look at together.)
Stand up when you can, usually during the formal part of the remarks, but keep it conversational when you can.
Pick your seat wisely, preferably next to or adjacent to the decision-maker. (Note: sitting across from someone could be considered "adversarial.")
Delay distributing anything but the most vital presentation materials, in order to keep their attention longer.
When you're in a small room, it's especially important to remember and control not just what you say, but what you do. "Knowing our personal predisposition in terms of space use, gestures and nonverbal communication can be a great start to maximizing your non-verbal power," Schramm writes.