Vidyo CEO: Channel Should Sell More Videoconferencing
Submitted by Mark Haranas on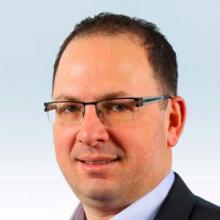 Solution providers need to jump into videoconferencing as the emerging Internet of Things (IoT) market takes shape. That's where video is already playing a critical role in such markets as health care and government, says Eran Westman, CEO of software-based videoconferencing specialist Vidyo.
Westman says video communications is seeing widespread adoption in 2015 and his company is witnessing more wins in mid-market enterprises and in Fortune 500 companies, where channel partners can drive profitability.
Gartner describes Vidyo as a disruptive force in videoconferencing with its software-based approach that limits the need for transcoding and associated infrastructure. The privately held Hackensack, N.J.-based company was recently awarded its 100th patent.
Westman gives IT Best Of Breed his insights about the video market in 2015 and where solution providers should look to increase revenues.
What does the videoconferencing market look like in 2015? How has the market evolved over the past three or four years?
Companies of all sizes today are looking at video as part of their digital leadership strategy. It's especially important with today's workforce to use highly resilient mobile and desktop solutions that enable companies of all sizes and budgets to leverage whatever devices, networks and applications they already have. There's interest from customers in how to video-enable their applications, workflows and business processes. We're seeing the market for embedded, integrated video grow rapidly alongside growing security demands, especially in sectors with sensitive information, like defense, health care and financial services, where adoption of video-based communication has significantly increased in the last few years.
We're also seeing the market embrace software-based videoconferencing which we pioneered back in 2007.
How can channel partners be profitable in videoconferencing/collaboration in 2015?
The channel understands the value of a customizable platform and APIs that provide video communications solutions that quickly and easily integrate into workflows to enable innovative solutions and impact time to market, to deliver strong ROI. Partners can show customers the impact of a platform and APIs in verticals like health care and financial services, which really benefit from workflow integration, meaning the user – a doctor or financial advisor – doesn't need to interrupt the business processes already in place or leave a particular platform to connect to a videoconference. Video-enabled contact centers in customer engagement applications and new collaboration models are also big opportunities for the channel.
How can solution providers be successful in videoconferencing/collaboration in IoT? Where are the best margins and recurring revenue opportunities for them?
Those that are first, those who are innovating, have the opportunity to own new markets, and that ownership can result in both great margins and long-term customers for both recurring revenue and infrastructure sales opportunities. A big differentiator we've seen among solution providers is providing full-service solutions to customers that serve to underscore the value add they're bringing to the technology they're selling. The partner is not just engaged for the sale, but for the entire lifecycle of the solution they are providing. This is for partners who latch on early to the idea of owning a geographic region or vertical market, and (it's) critical to long-term success and achieving the highest margins possible.
How is Vidyo positioning itself to capitalize on the emerging IoT market?
We're excited about the opportunity to video-enable the enormous IoT market. We focused on doing one thing better than anyone else. We never dreamed Vidyo would be integrated into Internet-connected things today, like … Philips eICU beds, firefighting drones, Healthspot kiosks in drug stores (and) smart glasses for field services. … The applications and opportunities are virtually endless because our VidyoWorks platform delivers amazing quality video that is highly scalable and resilient over any Internet connection or wireless network. We are actively expanding our ecosystem to address the IoT opportunity.
What are the hottest markets right now for videoconferencing/collaboration?
Video communications has seen widespread adoption across industries. We're seeing strong traction across verticals, particularly in health care, financial services and government and government defense – also in mid-market enterprise companies and Fortune 500 companies.
How does a company like Vidyo stay innovative in video and ahead of the market?
Vidyo has been very fortunate to have a core R&D team with considerable experience in video, multimedia and networking research. Our co-founder and chief scientist, Alex Eleftheriadis, was a professor of electrical engineering at Columbia University, and several members of the team have doctoral and masters' degrees in electrical engineering and computer science. It creates an atmosphere where technical innovation is a natural approach for problem solving.
Vidyo has more than 100 patents. What does that benchmark mean?
More than anything, our 100-plus patents confirm how disruptive Vidyo technology is and demonstrate our ability to consistently create new technology for our customers and partners.  Consistency is a key distinguishing feature between a professional and an amateur. The professional can perform at a very high level again and again. That's how we ensure our customers always have access to the best experiences, latest features and best price points with no fear of obsolescence.