Partner Talk: Quotes Of The Week
Submitted by CRN Staff on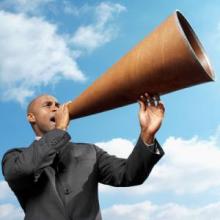 What were solution providers talking about on CRN last week? Here's a handful of quotes we picked up that focused on such news stories as Lenovo's unveiling of an OEM agreement with DataCore Software, an outage that impacted storage availability for customers of Microsoft Azure public cloud, and Dell EMC's ejection of two solution providers.
"Without a transaction sufficient to address the company's financial situation, the company expects to conclude … that there is substantial doubt about the company's ability to continue as a going concern."
~ Christian Metzger, chief financial officer for solution provider giant Ciber, in a filing with the U.S. Securities and Exchange Commission (SEC) Friday afternoon. Ciber is on the hook to repay Wells Fargo $28.2 million by the end of the month. Ciber had received a buyout offer earlier in the week from technology management solution provider Ameri100. A day later, Ciber announced that it was considering the offer.
"Lenovo needs a software-defined storage strategy. But it also needs a strong storage strategy to compete. I'm not knocking Lenovo's strategy. I'm saying they need to pay attention to storage, but not put all their eggs in the DataCore basket."
~ Chris Pyle, president of Champion Solutions Group, a Boca Raton, Fla.-based solution provider and channel partner to both Lenovo and DataCore Software, after Lenovo unveiled a new OEM agreement with DataCore to integrate DataCore's SANsymphony software-defined storage with Lenovo servers.
"You have to have a hybrid model right now until the cloud becomes fully fault tolerant. These are data centers. At the end of the day whether it is Microsoft or Google, they are still running data centers. They are bound to the limits of technology even as they are taking advantage of technology advancements."
~ Jamie Shepard, senior vice president for health care and strategy at Lumenate, following the outage that impacted storage availability for customers of Microsoft Azure public cloud.
"They set forth some objectives, and they're going to reach them. These guys mean business, and the message has been loud and clear. If I violate, I should be kicked out too."
~ Steve Hipskind, president of Hipskind Technology Solutions, an Oakbrook Terrace, Ill.-based solution provider that works with Dell EMC, endorsing the vendor's decision to eject two U.K. solution providers from its partner program after they repeatedly violated its "zero-tolerance" policy on deal registration.
"Go with your heart and with what you believe, but if you do believe there's some uncertainty, if you don't feel like you have a clear vision as to what's going to happen … I would slow down, but not stop moving towards that vision, and I would become more conservative. But don't stop evaluating and be ready to make a change. Don't stop moving, but consider changing the pace of your movement."
~ Adam Eiseman, CEO of managed services provider Lloyd Group, advising other MSPs to consider a change of pace for the near future and become more financially conservative in an atmosphere of political uncertainty following the election of President Donald Trump.