Michael Dell On Carl Icahn: He Is A Bad Guy That Lies With No Ethical Boundaries
Submitted by Steve Burke on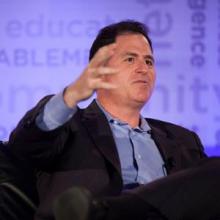 Dell founder and CEO Michael Dell made no bones about what he thinks of activist investor Carl Icahn who attempted to stop Dell's $24.9 billion leveraged buyout last year.
"He is a bad guy," said Dell in a question on Icahn from Channel Company CEO Robert Faletra at the BoB Conference in Orlando Fla. on Monday afternoon. "He lies. He has no ethical boundaries. He will say anything, do anything. I have no time for him."
Dell's comments on Icahn drew loud applause from several hundred of the country's top technology solution providers at the invite only event.
Dell tangled repeatedly last year during the leveraged buyout battle with Icahn, who had referred to Dell's leveraged buyout as "desperate debacle."
Icahn gave up the months long battle to stop the Dell buyout last year but not before lashing out at Michael Dell in an 800 word open letter in which he referred to Dell as a "dictator" and then later congratulated Dell on the hard fought battle.
Icahn Enterprises was unavailable for comment at press time.
Dell's comments come as Icahn is pressuring Apple CEO Tim Cook to use some of Apple's $133 billion in cash to accelerate share repurchases. "We ask you to present to the rest of the Board our request for the company to make a tender offer, which would meaningfully accelerate and increase the magnitude of share repurchases," wrote Icahn on October 9 in an open letter to Cook.
Marc Andreessen, the renowned founder of Silicon Valley venture capitalist Andreessen Horowitz, echoed Dell's comments in a CNBC interview just five days ago. "He just makes stuff up, he slanders," said Andresseen of Icahn. "His inner six year old comes out. He makes no sense."
Andreessen referred to Michael Dell's statement that Icahn didn't know whether Dell made "nuclear reactors or French fries."
Andreessen accused Icahn of not having a grasp of the "details" of the companies  that he is pressuring. "You are affecting the lives of real people, you are affecting the lives of tens of thousands of people," said Andreessen. "You are affecting the destiny of these companies for years to come, the substance on this really, really matters and all the crazy bomb throwing and all the inflammatory statements and all of that stuff is a complete sideshow. If that is how he wants to do business he can but it doesn't actually contribute to building a company."
Several solution providers said they see Icahn as a disruptive force adding no value to the technology business.
"There are disruptive and innovative approaches that bring value and then you have Carl Icahn who brings no value," said Bob Venero, the CEO of Future Tech Inc., a Holbrook, New York Dell solution provider, No. 234 on the CRN SP500. "He is disruptive and is only looking at lining his pockets at the expense of others' jobs, lives and their ability to make a living based on the destructive nature of what he brings to companies. These are facts – not fiction- like a lot of the fiction he puts out in the market about the companies he goes after He's doing it again with Apple now."
David Powell, vice president of managed services and cloud services marketing for TekLinks, a $100 million solution provider based in Birmingham, Ala., called Dell's comments on Icahn a "bold" statement that echoed the sentiments of a number of technology executives.
As for Michael Dell now that his company is private, Powell said it is clear "Michael is enjoying running a private company instead of being a slave to the quarterly public earnings calls. You can see Michael's passion for the technology and the business."