Dell EMC Channel Chief Pledges Industry's Most Profitable Channel Program
Submitted by Joseph F. Kovar on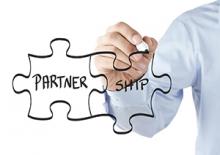 (NOTE: This story was originally posted to CRN.com Oct. 25.)
The top executive for the combined channel sales efforts for Dell EMC is fired up about going to market with channel partners for one simple reason: he sees no bigger growth opportunity anywhere else in the industry.
Dell EMC President and Chief Commercial Officer Marius Haas, a fierce channel advocate who has ultimate responsibility for Dell EMC's combined channel sales, said that the vendor, working together with its channel partners, has the potential to add billions in revenues to its coffers. 
"I think we could add billions of dollars. Billions," Haas said Tuesday during a live on-stage interview at this year's Best of Breed Conference in Atlanta, hosted by IT Best Of Breed's parent, The Channel Company. "If you assume right now that it's well over $40 billion in revenue flowing through the channel and we're less than 10 percent of the market, why can't this be 15 [percent]? Why can't this be 20 [percent]? We're talking about an additional $40 billion," Haas said. "Where else are you going to get that kind of opportunity? Not very many places. When people ask me, 'Hey, Marius, you're in a big organization, your role has changed, why are you still excited about being here?' There is no opportunity that's bigger than this."
[Related: CRN Exclusive: Dell Enterprise Solutions President Haas On Tripling Channel Sales, Lenovo's Tough Times, And Meg Whitman's Election Distraction]
In order to gain share and achieve that growth, Haas pledged to build the most profitable channel program in the business, bar none. 
"It has to be profitable, and it has to be more profitable than what you can get from anyone else," Haas said. 
To build what Haas says will be a "world-class program," he and his team will be melding together the best elements from the stand-alone Dell and EMC channel programs.
"Partners like the predictability of the EMC model. Then, too, partners like the economics of the classic Dell program. So think about this: Why not take the best of one program, and the best of the other program, and bring them together to create one world-class program?" he said. 
Stelios Valavanis, president of onShore Security, a Chicago-based security solution provider and Dell partner, said he is committed to partnering more closely with Dell after Haas' appearance at the BoB conference.
These guys are not afraid to reinvent themselves," Valavanis said. "A lot of big companies are afraid. We walked away from EMC in the past because I felt they were hard to work with. Now I am going to give them another shot."
Valavanis said he was inspired by Haas' pledge to dramatically grow the channel business.