Blog Roundup: Moving Healthcare Forward
Submitted by Rick Saia on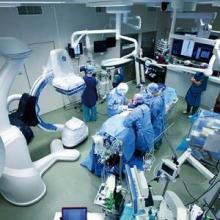 Information technology has transformed the healthcare industry over the last 20 years, and there's more innovation ahead, especially as the industry faces cost pressures, as federal lawmakers wrestle with the issue of insurance coverage.
Healthcare companies also planned to invest more in IT this year, with 52 percent expecting to boost their budgets and only 13 percent planning to cut spending, according to a survey last year of IT decision makers in the industry conducted by business consultancy Harvey Nash and professional services provider KPMG. Along with increasing operational efficiencies, business process improvement and the need for better analytics and business intelligence were the top three issues IT wanted their organizations' management teams to address.
Here's a roundup of four blog posts from within the channel that address what's happening in the healthcare market.
SHI INTERNATIONAL: Cost pressures and technology opportunities
To the surprise of – well, probably no one – the U.S. spends a lot on healthcare. Ross Smith looks at how technology is evolving to change that while maintaining quality care.
BURWOOD GROUP: The challenge behind IoT in healthcare
As Internet of Things technologies in healthcare gain serious investment, what lies in the way of wider adoption of IoT? Dr. Albert Villarin, chief medical information officer for Burwood Group, addresses why it seems so difficult.
COMPUCOM: 3 ways to improve iPad mobility
Mobile devices such as iPads make a data-intensive industry such as healthcare a little easier for caregivers. James Bainter outlines three tips you can pass along to your healthcare customers.
SPS: How communications solutions enhance care
Michael Leugs describes the benefits of telemedicine and tele-translation in improving care in remote geographies.