Solution Providers Smell Opportunities In Enterprise-Targeted Wearables
Submitted by Lindsey O'Donnell on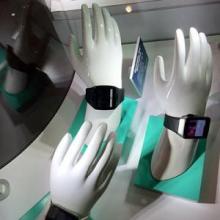 (NOTE: This story was originally posted to CRN.com July 19.)
As businesses move toward the Internet of Things, wearables will have a big role in customers' IoT strategies in such vertical markets as manufacturing and health care, solution providers say.
Optical wearables entered the spotlight this week after Google parent Alphabet said Tuesday it has reinvented its flagship wearable, now called Google Glass Enterprise, with a new look and a new target audience in vertical markets.
"Though manufacturing and warehousing are natural first use cases, I believe the opportunities for leveraging these technologies are limitless," said Simon Margolis, director of cloud platforms at SADA Systems, Los Angeles. "In this news I see Google's continued commitment to IoT and wearables as a very positive step forward for cloud computing. As IoT devices become more specialized, the underlying technology used to support, manage and analyze their data follows. With Google continuing to develop its own devices, the potential synergy between device and data value grows."
[Related: Alphabet Targets Connected Vertical Markets, New Partnerships With Google Glass Enterprise]
Alphabet's new wearable is markedly different from its previous consumer-focused iteration in its target audience –enterprise vertical markets, most notably the manufacturing space. Google Glass Enterprise also has improved design and hardware so that it is now lightweight and comfortable for long-term wear.
Google Glass Enterprise also has modular electronics that can be attached to any frame – including safety goggles for manufacturing floor employees. In addition, the wearable has a better camera, with 8 megapixels instead of 5 megapixels, a faster processor and extended battery life.
"I see this as a very valuable new avenue for the partner ecosystem," said Margolis. "Just as with many other Google products, Google provides an extremely robust platform to build on. Services partners will now have the ability to enhance these 'out-of-the-box' devices and supporting systems to create holistic solutions for specific business needs."
Alphabet's bet on Google Glass Enterprise shows that more vertical markets are looking to use optical wearables for an array of functions, such as increased safety and efficiency on the factory floor.
In a report this month, research firm IDC said that connected eyewear will grow at a 201.2 percent compound annual growth rate from 2016 to 2020, as optical wearables bring a "transformational shift" to select industries and job functions.
"Eyewear has a clear focus on the enterprise as it stands to complement or replace existing computing devices, particularly for workers in the field or on the factory floor," said Jitesh Ubrani, senior research analyst for IDC Mobile Device Trackers, in a statement. "Watches and bands are and always will be popular, but the market will clearly benefit from the emergence of additional form factors, like clothing and eyewear, that will deliver new capabilities and experiences."
Meanwhile, other vendors have built up wearable strategies around the enterprise – including Microsoft, which has slated its HoloLens wearable for a similar target business group, in 2016 releasing the commercial suite for its wearables with enterprise features like added security and device management.