Blog Roundup: The World Discovers AI
Submitted by Rick Saia on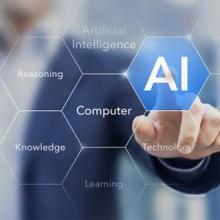 As the information technology industry ramps up its offerings in artificial intelligence, is AI ready for prime time?
Americans are ready to embrace AI in the workplace, especially if it will make their work lives easier and give them more time to work on higher-value tasks, according to software maker Conversica. In a survey of 1,000 Americans about the potential for AI, Conversica found that 52 percent want a virtual assistant in the workplace, even though most people don't have human administrative assistants.
The payoffs of having a virtual assistant, they said, include the offloading of mindless, repetitive tasks; the elimination of boring tasks; higher productivity; and less need to work after hours.
The results represent a "turning point" in Americans' perceptions around AI "and a growing understanding that AI can solve real business problems and help human workers be more productive and successful," said Conversica CEO Alex Terry, in a statement.
Both technology vendors and channel partners have trumpeted recent moves in the artificial intelligence market. In March, for instance, solution provider giant Unisys -- No. 19 on CRN's Solution Provider 500 -- announced the upcoming launch of a virtual "center of excellence" and the debut of its Machine Learning-as-a-Service that will enable organizations to predict changes in business conditions and quickly evaluate how they respond to those changes. In an interview with ITBestOfBreed, Unisys executive Rod Fontecilla acknowledged the "billions of dollars" that big-name vendors are investing in the technology.
Unisys is not the only solution provider doing something to address AI. Here's a roundup of four recent blog posts that address various aspects of the emerging technology.
AVANADE: Not a 'silver bullet,' but an augmenting element
Amit Bahree addresses a rise of new interfaces and experiences with conversational technology and intelligent assistants such as Microsoft's Cortana and Amazon's Alexa.
COGNIZANT: How to design a successful chatbot
This post lists the five elements that will spell success for workplace chatbots.
SCALAR: The role of artificial intelligence in data security
Amid the growing number of digital threats, businesses should look to AI to shore up their servers with innovative, new data security tools, Tracey Ong writes.
DXC TECHNOLOGY: Are we heading toward an AI winter?
OK, a contrarian viewpoint here. Danko Nikolic acknowledges all the investment and enthusiasm today for artificial intelligence. But despite previous ups and downs for the technology since the early 1970s, the data scientist for DXC believes things are different this time.