Delivering the promise of Cognitive Security
Submitted by IBM Channel on
As I travel the world, one thing is consistent with customers and partners: the security conversation is shifting. Gone are the days of trying to control perimeters (impossible!). In recent years, we have been focused on how to use intelligence to sift through massive amounts of data to discover vulnerabilities and prioritize potential attacks. Organizations are asking for more, but not more data. Customers are struggling with security analyst burnout, which is compounded by a skills shortage.
Securing massive amounts of data, prioritizing security alerts and detecting threats is getting to a point where human interaction alone becomes implausible. IBM has the ability to leverage learning and thinking machines that offload the daily challenges of tactical defense, and operate at high speed and enterprise scale.
It's time to shift the conversation: Understanding the benefits of Cognitive Security
At IBM Security, we're training a new generation of cloud-based cognitive systems such as IBM Watson™ to learn, understand and reason around employee errors, insider threat, advanced malware and about constantly evolving security threats. We're beginning to build security instincts and expertise into new thinking systems that analyze research reports, web text, threat data and other security-relevant, machine-generated and unstructured data—just like security professionals do every day—but at a scale like we've never seen.
The result: security professionals will call upon cognitive systems to help augment and even automate their understanding of a threat, making themselves smarter about the latest attacks and freeing up valuable time to focus on other pressing issues. Cognitive is a natural next step on our security roadmap. It builds on the foundation of Security Intelligence, which will continue to be central to our security strategy.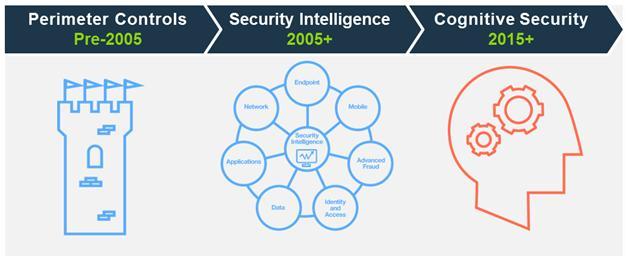 How you can have a conversation about cognitive with customers today
IBM Security has cognitive capabilities available in solutions today. Machine learning can help increase the detection accuracy of vulnerabilities and prioritize those vulnerabilities, so you can respond much faster. Behavioral learning is used to proactively anticipate and find anomalies around threats that are happening in the network.
As we train Watson to understand the nuances and intricacies of security globally, IBM Security and our Business Partners will continue to offer end-to-end protection and an immune system approach that spans security intelligence, identity and access, advanced fraud, data, application, network, endpoint, cloud, mobile and research. Each of these platforms is going to benefit from IBM's cognitive capabilities.
There has never been a better time to partner with IBM Security. Learn more about the PartnerWorld Program by visiting the PartnerWorld portal ibm.com/partnerworld/go and if you aren't currently working with IBM, call 800-426-9990 to speak to a representative to discuss becoming an IBM Business Partner.