Industry's First Data Recovery Report Highlights Global Trends in Data Recovery
Submitted by Tracy Staniland on
Do you know how much data your clients recover annually?  It's probably less than you think. The new Data Protection Trends: Validating Recovery report conducted by Asigra demystifies the notion that organizations recover 100 per cent. In fact, the study shows that organizations are recovering only five per cent of their data on average.  Recent studies conducted by Enterprise Strategy Group with over 500 financial and IT decision makers, 52 per cent of respondents surveyed said that a recovery based pricing model would be more fair than a capacity based pricing model. So why are your clients paying for 100 percent recovery when in reality they're recovering much less?
"For those who recover less, they pay less. The Asigra Recovery License Model really does work well for our partners, given that they're able to meet those twin demands of recovering and storing more data at a lower price," says Mike Osborne, Director of Strategy, Daisy Group.
As enterprises look for better ways to protect their data, reduce downtime and mitigate cyberattacks, this report provides valuable insights for Managed Service Providers and IT Professionals who need the right cloud backup and recovery solution for their organization. Conducted over a 30-month period, the study compiled insights of data recovery practices from over 1,000 organizations, in 134 countries, across eight vertical markets. Download the full report to garner insights on:
How much data organizations actually recover per year
Average size and type of data recovered for each vertical market
Reasons for the surge in Data Recovery Drills
Asigra's Recovery License Model®
With the average total cost of data breaches steadily increasing every year (from $3.79 million to $4 million in 2016)[1], this timely report will allow organizations to make smart choices about their data protection strategy, in addition to guiding their IT priorities for the coming year.
"No one has ever disclosed this kind of empirical data recovery information before," says Eran Farajun, Executive Vice President, Asigra. "Our data shines a light on customers' actual data recovery behaviors and demonstrates that organizations recover only a small percentage of their overall data. This is critical information for companies seeking to make smart choices about data protection solutions and how to allocate ever-scrutinized IT dollars as part of a larger overall business strategy."
Download the report today and receive the insights you need to maximize operational efficiency, increase profitability and learn about Asigra's end-to-end data protection solution.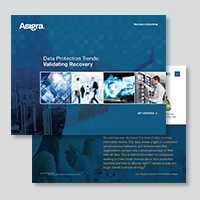 ---
[1] 2016 Cost of Data Breach Study: Global Analysis conducted by IBM