On-Demand Webinar: Six Reasons Managed Service Providers Should Consider Asigra for Disaster as a Recovery Solution Provider
Submitted by Tracy Staniland on
With organizations demanding faster recovery time as RPO's and RTO's are decreasing to meet service level agreements, as an MSP you're looking for a solution that will suit the full scope of the business needs of your customers – a solution that has the best RTO, a solution that will lower your total cost of ownership (TCO) with one comprehensive, agentless, end-to-end converged solution which offers continuous data protection and virtual disaster recovery.
The Business case for DRaaS:
Many organizations do not have a disaster recovery solution in place. The bad news for enterprises is ransomware attacks are occurring 4000 times daily…a 300 per cent increase from 2016.[1] The good news is for you that there is a large market opportunity for MSP's who offer DRaaS as a service offering. Similar reports show that DRaaS will be worth 11 billion by 2021 – a growth rate of 45 percent.[2] Therefore, there should be no hesitation as an MSP to add this solution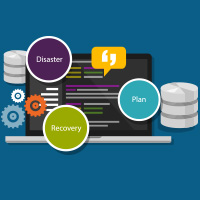 to your offerings, as it will lower TCO and increase revenue and profitability for not only you but your clients.
Why you should select Asigra for your DRaaS provider?
Asigra offers a multi-tenant software solution that can protect data sources such as: physical endpoints, virtual machines (VMware and Hyper-V environments), enterprise applications and databases, SaaS and IaaS services, workstations, laptops, all mobile devices (tablets, iPads and smartphones) and Docker containers.  Our solution supports all networks with integrated VM replication, is easy to manage, secure and flexible.  Key features of our DRaaS solution include:
Point in time backups for both VMWare and Hyper-V environments.  You can backup data whenever you want or on a predetermined schedule. Customizable, flexible retention rules makes it easy for you to help your customers meet compliance and regulatory mandates. The ability to perform file level recoveries enables you to provider shorter RTOs and data transfer time.
Snapshot-based replication for both VMWare and Hyper-V environments can also be run on demand or on schedule and can be replicated sequentially or in full. If the need to test arises, or disaster happens you have the capability to turn on those virtual machines whenever you want to replicate any amounts of data for specific points in time.
Virtual Disaster Recovery (VDR) enables you recover assets from physical machines into virtual conversions to make your data available instantly when you need it.
Coming Soon – Asynchronous Snapshot-Based Replication - a more cost effective solution to synchronous replication, this allows you to write all critical data to your primary storage device and have that data replicated whenever you want. 
Business Benefits to You:
Asigra eliminates third party VM protection tools. Our tools protect entire environments with virtual machine capability with easy accessibility to manage all environments with one interface with consistent UI flow.
Our solution reduces operational expenditures with a single, integrated and multi-tenant solution built to serve both MSP's and enterprises.
Our platform allows you to bring a flexible offering to the market where you can choose one or all of the services: VM replication, backup, recovery, and many more options to suit the needs of your client.
We are 100 per cent channel focused. We do not compete with you, we work with you to eliminate sales conflicts and provide you will all the sales and marketing support you need to help you sell your service and reduce time to market.
We provide technical product training and certifications, ensuring that you have the technical wherewithal and expertise to offer your clients the best solutions that fit the needs of their specific business.
We provide a pre-configured, pre-optimized appliance that allows your services to be up and running within minutes.
Ready to learn more?  Click here to gain access into the webinar and learn how our converged data protection and recovery solution enables you to expand your total addressable market and generate monthly recurring revenue faster.