News You Can Use: Got SMB Clients With Money Woes?
Submitted by Rick Saia on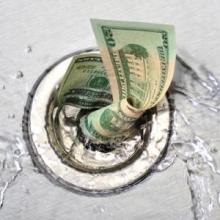 Many small and mid-sized businesses – a core market for solution providers – are having trouble with their cash flow and with disputed payments. Can you help with any of your offerings?
SMB BACK OFFICE IN NEED OF HELP?
Small and mid-sized businesses can apparently use some technology help in managing cash flow and overcoming payment fraud, according to integrated payments provider WePay. Research by the Redwood City, Calif.-based firm found that 41 percent of SMBs it surveyed in the United States experienced cash flow challenges within the last year, while 16 percent experienced payment fraud, with the impact going beyond the financial: 56 percent said the emotional impact of the cash flow challenges and fraud are "highly consequential" or "consequential." One in four businesses said they experienced a chargeback due to a fraudulent or disputed transaction, WePay found. As for the technology they use, is there an opportunity for a solution provider to help SMBs simplify the back office? Most of the SMBs surveyed say they manage their businesses via software and apps, yet 16 percent say they "consistently" need to use at least five tools, the survey found.
WHAT DO RETAILERS WANT? IT STARTS AT THE CHECKOUT COUNTER
What does Christmas look like to a retailer when it's not December? Apparently, for nearly half of them, it assumes a vision of more self-checkout technology within the next year, according to solution provider giant CompuCom. In a survey, it found that 43 percent consider self-checkout technology as the tool they would like to see more of, well above three other items on a list. But, taken together, those four tools center around retailers' desire for more customization and speed inside their stores. "As we talk to retail clients about the 'store of the future,' customization and speed emerge as key themes," said Tom Alvey, senior vice president of CompuCom's Retail Solutions Group. "And self-checkout equipment emerged as an important enabling technology." Two other technologies (with their preferences in parentheses): interactive/personalized signage and displays (21 percent) and interactive fitting rooms (19 percent).
FULL SPEED AHEAD FOR CRM
Are you selling more customer relationship management solutions? Expect that to continue, according to Grand View Research. The global CRM market will reach nearly $82 billion by 2025, rising nearly fourfold from $21.4 billion in 2014, Grand View says. The increased demand is driven by the ability of CRM suites – especially the big players, Salesforce, Microsoft, SAP, Oracle, and Adobe - to carry out business with ease for both big and small companies, San Francisco-based Grand View said in a statement. It also cited a "spectacular rise" in cloud-deployed solutions as a key trend in the CRM market. "While this technology has been in the industry for quite some time, its widespread adoption by small and large businesses was unforeseen," the Grand View statement read.
MOBILE GROWTH FUELS FEAR IN FINANCIAL SERVICES
As the electronic communications compliance landscape becomes more complex and undergoes heavier scrutiny, a "significant" number of financial services firms are vulnerable to risk because of gaps in their retention and oversight initiatives, fueled by the growth in mobile communications, according to Smarsh, a vendor of archiving solutions for compliance, e-discovery and risk management. In a recent survey of compliance professionals in the financial services industry, Smarsh found that mobile devices and non-email communications channels, such as text messaging, account for two of respondents' top three overall e-communications compliance concerns. With mobile devices in the hands of nearly every employee today, mobile communications are top of mind with compliance professionals, the company said in a statement. Forty-two percent of survey respondents reported that employees requested to use text or SMS messaging for business purposes, Smarsh said. More than half of respondents -- 52 percent -- identified text or SMS as the type of non-email content that poses the "greatest compliance risk" to their organizations, the survey found.