Managed Print Providers Take Aim At SMBs
Submitted by Rick Saia on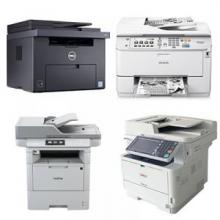 If you're looking for managed services opportunities in 2017, there may be some gold nuggets awaiting you in the managed print services (MPS) space, according to the results of two recent surveys.
Xerox, the long-time manufacturer of printers and other office machines, says more than 80 percent of small and midsized businesses want to cut their use of paper – especially in the back office – and about half may turn to service providers to help tame their printing processes.
The survey of more than 1,000 companies in the U.S., U.K., France and Germany – taken online in September – showed that respondents expect to make changes to their printing practices over the next 12 months, Xerox said in a statement.
But here's the real notable finding for MPS providers: 42 percent of SMBs surveyed have MPS contracts, and another 40 percent said they plan to put one in place within the next year.
Nearly half of the SMBs surveyed – 46 percent – said that a significant amount of time is wasted on paper-intensive processes, and six out of 10 companies see that as having a major impact on their bottom line, according to Xerox.
Josh Justice, president of Southern Solutions, a services provider based in La Plata, Md., has been seeing a surge this year from the SMB market as companies look to rein in their printing operations, as well as their networking costs. "We see more and more SMBs in our area who want us to manage everything," Justice told ITBestOfBreed. And entering 2017, "we have a lot in the pipeline."
Part of the reason behind the surge in MPS is that "we've been talking to them about it for a while," Justice said. Now, more of Southern Solutions' clients are feeling comfortable with it, seeing "simplified processes and increased efficiencies."
And it's more likely that SMBs will turn to the channel first, the survey revealed. The study found that only 37 percent will turn to an OEM to digitize paper processes, while the rest will look to either an office equipment dealer or a reseller.
There is slightly more opportunity in the U.S. than in the other countries surveyed, the Xerox study found: 41 percent of SMBs in the U.S. have just begun planning to digitize their print processes, slightly higher than the overall average in the survey base – 37 percent.
In a report released in May, Transparency Market Research said the global managed print services market is expected to more than triple by 2024 to just under $95 billion, up from $26.2 billion in 2015.
Here are three recent blog posts from the channel that touch on MPS:
MARCO: Everything you need to know about managed print services for retail
Dan Larkin outlines what MPS can do for retail store chains.
COMPUCOM: Is your retail print environment a security threat?
Tom Alvey writes that a managed print services provider can also help retailers patch vulnerabilities in their networked printers.
CSRA DOCUMENT SOLUTIONS: Getting greener through MPS
Don Nesbitt outlines four reasons MPS can help a business reduce energy costs.