Michael Dell To HP: Dell Is On The Attack, Playing Offense In Midst Of HP 'Chaos'
Submitted by Steve Burke on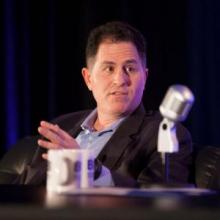 Michael Goldstein, president and CEO of LAN Infotech, a Fort Lauderdale, Fla.-based Dell partner, said he also has a level of trust with his Dell reps that is driving a 25 percent increase in his Dell business this year. "The trust is there," he said. "We have become the trusted advisor for customers working with Dell reps. We don't have to worry the client is going to go direct to Dell and get a better price. They are getting the best price by working with us as a Dell partner."
Goldstein said he sees Dell winning more business in the future as a broad end to end supplier of IT solutions. "Dell is a one stop shop for everything from client devices to end point security to data center," he said. "There is trust in knowing you have one company behind an end to end IT solution."
Goldstein said he sees the Dell channel partner value proposition getting stronger every year. "It sounds like the Dell channel program is going to get even better with even more incentives for the Dell direct team to work more closely with partners," he said. "That shows Dell's commitment."
Ron Dupler, CEO of Greenpages Technology Solutions, the well-respected national cloud provider, No. 151 on the CRN SP500, which also does services subcontracting work for Dell, said he sees Dell as a "good partner" and one of the company's core technology vendor partners.
"They have made exponential progress in terms of their channel program," he said.
Dupler said Dell was prescient taking his company private last year to gain an advantage over competitors like HP. "Michael was able to take his company private to drive through a transformation," he said. "That was a bold move on his part and it paid off. (HP CEO) Meg (Whitman) doesn't have the luxury of taking HP private. So she is trying to do it by breaking the company apart and bringing focus to each business segment. It is all about transformation."
Bob Venero, the CEO of Future Tech Inc., a Holbrook, New York solution provider, No. 234 on the CRN SP500, said he sees Dell becoming even more "tenacious" in its second year as a private company.
"Dell sees an opportunity to take a very offensive position to win where there is fear, uncertainty and doubt in the market," Venero said. "Dell is growing fast because it is one of the last standing full service OEMs out there from the client to the data center to software and services and networking. Customers can leverage their IT spend across all Dell lines for better discount, better interoperability and a stronger relationship."
Venero credited Dell with driving enormous profitability into the channel. He said Dell's channel progress has been staggering.  "This is a company whose entire DNA was direct and now has a $20 billion channel business," he said "That is astounding."
Pages