5 Things Solution Providers Can Learn About Security From The CIA
Submitted by Sarah Kuranda on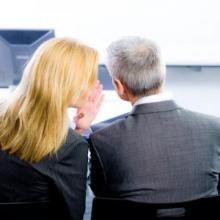 There are significant and very real threats abroad affecting national security. Now, many of those threats, which stem from such countries as Syria and Iraq, are extending onto U.S. soil with the aid of technology, Bob Dougherty, retired operations officer for the Central Intelligence Agency (CIA) and an intelligence-based strategic consulting professional, said Monday at XChange 2016's Security University in Los Angeles. Those threats are turning into action, with recent terrorist attacks in Paris and San Bernadino, Calif., resulting in the deaths of 144 people.
"This is a trend that is not good," Dougherty said. The threat is only escalating, he said, with 71 Americans having been arrested since March 2014 with ties to the militant group Islamic State - an average of two per month in the West overall.
As the CIA and other agencies work to thwart this threat, Dougherty said there are five key lessons that solution providers could apply to their own businesses, he told his audience Monday.
1. Strategy And Planning Wins
Dougherty said the CIA has learned that strategy and planning are key to rooting out and stopping terrorists. The same goes for business, he said, citing visions, year-end planning and growth goals as examples of areas the two have in common.
2. Communication
Communication is "absolutely critical in my world and your world," Dougherty said. That communication needs to occur both vertically and horizontally for an effective business or operation, he said.
3. Teamwork
Another critical area in the intelligence and special operations world is teamwork, Dougherty said. As in business, he said it's important that colleagues talk to and support one another for their work to be successful.
4. Speed Of Action
Especially in the information security business, speed is everything, Dougherty said. Whether it's launching a new product or undergoing a merger, he said action to move the business forward needs to be swift and with a strong leadership direction.
"Your speed of action has to be decisive," Dougherty said. "It's the same in the intelligence world."
5. Guardian Angels And Good Shepherds
Finally, Dougherty said businesses, just like the CIA, need to develop a strong network of "guardian angels" in the community and act as "good shepherds" in return. He told the solution providers in the audience to build strong advisor relationships, whether it be with mentors or a strong board of directors. On the flip side, he said it's important that the business work to "make a positive impact in the community," through charity, protecting the environment or generally doing good.
"These are all concepts we use in intelligence and special operations that translate to your world," Dougherty said.